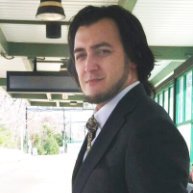 Kris Aleksov is the principal of the office. Attorney Aleksov has a niche focus on physician expert witness liability. He is the author of ExpertlyLegal.com, a website providing information and guidance on the methods available to hold physician expert witnesses accountable for their unethical testimony. Kris also litigates personal injury, condominium, business disputes and professional liability cases. Kris also provides pro bono representation in real estate matters to those individuals who are not quite poor enough to qualify for free legal services.
Kris received his Juris Doctor from the University of Massachusetts School of  Law-Dartmouth where he served as Business Editor on the UMass Law Review Editorial Board. As an associate member of the UMass Roundtable Symposium Law Journal, he was selected as moderator for the annual conference on Trends and Issues in Immigration and the Law. During this time he also served as a Judicial Intern to Superior Court Judges Robert J. Kane and Susan Garsh. He also practiced under SJC rule 3:03 for the South Coastal Counties Legal Services Clinic representing low income and elderly citizens of the commonwealth in landlord/tenant matters.
He has a BA in Philosophy with a concentration in Professional and Applied Ethics from Western Michigan University in Kalamazoo.